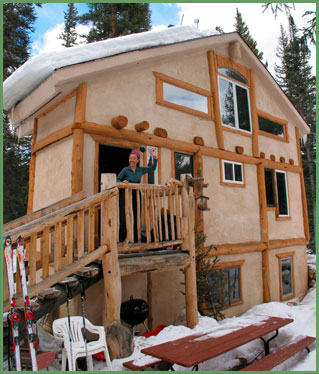 The High Lonesome Hut
The Millers invite you to visit the High Lonesome Hut, located on a 160 acres of meadow and spruce forest surrounded by the Arapaho National Forest.

Travel the 2.5 mile long trail to the Hut by hiking, mountain biking, cross country skiing or snowshoeing - on horseback, or by any non-motorized method you choose. The High Lonesome Hut makes a great base camp for adventures during any time of the year.

At the Hut you will find all the creature comforts, including solar generated electricity, hot and cold running water, an indoor toilet, a shower and space for you and eleven of your friends to sleep.

We offer many custom services to meet your individual needs for your hut trip. These include, but aren't limited to, guided day and overnight trips, child care, gear transport and custom prepared meals. Please call 970.726.4099 or email us at lonesomehut@lonesomehut.com for more information or reservations.

Book the High Lonesome Hut today by submitting our online request form or by calling 970-726-4099.